Rivers and Rails of Africa
March 31 - April 12, 2023
Mike and Judy Henderson
Judy has been advocating for a trip to Africa, but we couldn't find one we both liked until this one. AMA Waterways is new to us but it comes highly recommended. This trip combines a flight, a river boat, and a sleeper train - and it goes to Victoria Falls and includes one or more safaris.
We generally prefer tour providers which are "all-inclusive" - we like to know the full price up front - so the companies we've primarily used are Regent Seven Seas for sea cruises, Tauck for land tours, and Uniworld for river cruises. It appears that AMA Waterways is not quite as "all-inclusive" as the other three companies, especially in the area of tips for certain workers and guides, but they appear to be a "luxury" tour company, providing quality services and utilizing high-end hotels.
3/23/2023 (Thursday - about a week before departure) We received a surprise from our travel agent, Jennifer, today. Part of this tour was three nights on Rovos Rail (days 10, 11, and 12). Jennifer received a notice from AMA Waterways that Rovos Rail will not be available for this particular tour (rail strike) so that won't be part of this trip.
To compensate for this change, AMA Waterways is offering the people on the tour one of the following three options, beginning on Day 10:
1. Fly to Johannesburg from Victoria Falls (Day 10) and then board the Rovos Rail to Cape Town for a three day trip (Days 11, 12, and 13) on the train. Then fly back (Day 14) to Johannesburg for the flight home. Extends tour one day.
2. Fly from Victoria Falls (Day 10) directly to Kruger National Park (another link here), then two days (Days 11 and 12) of safaris. Then fly to Johannesburg (Day 13) for the flight home. This option does not extend the tour so the guests can keep their original flight arrangements.
3. Fly from Victoria Falls to Johannesburg (Day 10), and spend the next day (Day 11) touring Johannesburg. The following day (Day 12), fly to Kruger National Park for two days of Safari(Days 13 and 14). Then fly back to Johannesburg (Day 15) for the return flight. This choice adds two days to the tour.
We chose option 3. If you're going to fly all the way to South Africa, you should see as much as possible.
The accommodations in Kruger National Park are at Tintswalo Safari Lodge - a very nice lodge.
This will extend the trip by two days so we had to change our return flight, with all cost of the change being paid by AMA Waterways. Our original flights were on Lufthansa from Johannesburg to Munich, and then to LAX. The change puts us on Turkish Air, with an overnight flight from Johannesburg to Istanbul, and then to LAX. We've flown Turkish Air in the past and like them, so these changes are all positive for us.
AMA Waterways really stepped up to address this problem - I'm impressed.
Here's a map of the new itinerary.
1,200 miles from Cape Town to Victoria Falls (3 hours flying)
580 miles from Victoria Falls to Johannesburg (2 hours flying)
270 miles from Johannesburg to Kruger National Park (1 hour flying)
The itinerary will be (approximately) three days in Cape Town (plus one arrival day), four days cruising on the Zambezi Queen, two days at Victoria Falls, two days in Johannesburg, and three days at Kruger National Park. Then one day to return to Johannesburg for our flight home.
This is approximate because the real itinerary is specified in "nights" and I tried to convert this to "days". The total is 15 days and 14 nights, from March 31 to April 14. Since the first leg of our flight home is overnight, we will arrive home on April 15th.
+++++++++++++++++++++++++++
A couple of comments about photography on this tour. After every trip we take, I do a critical review of my photographs. I think I've improved over time, and that's been due to my learning and the use of better cameras.
The primary issue I noticed on our last trip was incorrect (soft) focus in photos taken in lower light conditions. I think part of this is due to the smaller sensor cameras I've been using. I started with cameras with very small sensors (1/2.3") because I wanted a camera that would fit into my pocket. Over time, I've upgraded to cameras with larger sensors, even though it meant a larger camera.
I used a Nikon APS-C camera with an 18-300mm lens on our Adriatic trip and thought it did a good job, but it was a single lens reflex, with a mirror, and was really noisy.
Then I went to a Panasonic 4/3rds camera with an Olympus 12-200mm lens (equivalent to a 24-400mm lens on a 35mm camera) for our Antarctic trip but found the camera slow to achieve focus. To address this, I got an Olympus 4/3rds camera (same lens) and used that for our Morocco and Istanbul to Dubai trips. The camera worked well but still had problems with soft focus under less ideal lighting.
For this trip, I went back to an APS-C camera - a Fujifilm X-H2 with a Tamron 18-300mm lens. APS-C has a crop factor of 1.5 so this is equivalent to a 27-450mm lens on a 35mm camera. I've done a few test images with the camera but this trip will be the major test of it.
The camera can also do a 1.4X or 2X digital zoom, allowing me to go to 630mm or 900mm equivalent (35mm camera equivalent). I've done some testing and the 1.4X appears to be excellent. There are some issues in the 2X zoom but the pictures are definitely usable.
The 450mm equivalent, along with the digital zoom, should give me very good reach for animal photos on the safaris.
I also use my iPhone 13 Pro and under certain conditions it produces excellent images. But the iPhone does not always produce crisp photos, especially in low light conditions, and telephoto images are miserable. I'm slowly learning how to use the iPhone camera to achieve better images, especially with sharper focus.
+++++++++++++++++++++++++++
3/29/2023 (Wednesday, Vietnam Veteran's Day) We woke up this morning at 4am to be ready for the Carey limo pickup at 6am. Lynn came over shortly before 6 to take our traditional pre-trip picture.
The limo driver arrived right on time and we were off. Traffic was bad - rush hour traffic made worse by the rain.
The driver was very good - and careful - and delivered us safely to LAX. Here's Judy with the driver as we said goodbye. We use Carey for Limo service and have always been very satisfied with them.
We checked in at United Airlines and encountered a very nice, helpful agent. He quickly handled our tickets and directed us to the Clear line. When the airport isn't busy, Clear is not that valuable. But when the airport is crazy busy, it's really worth while.
We cleared security quickly and headed to the United lounge to wait. It's a big lounge, nice and offered a decent breakfast selection.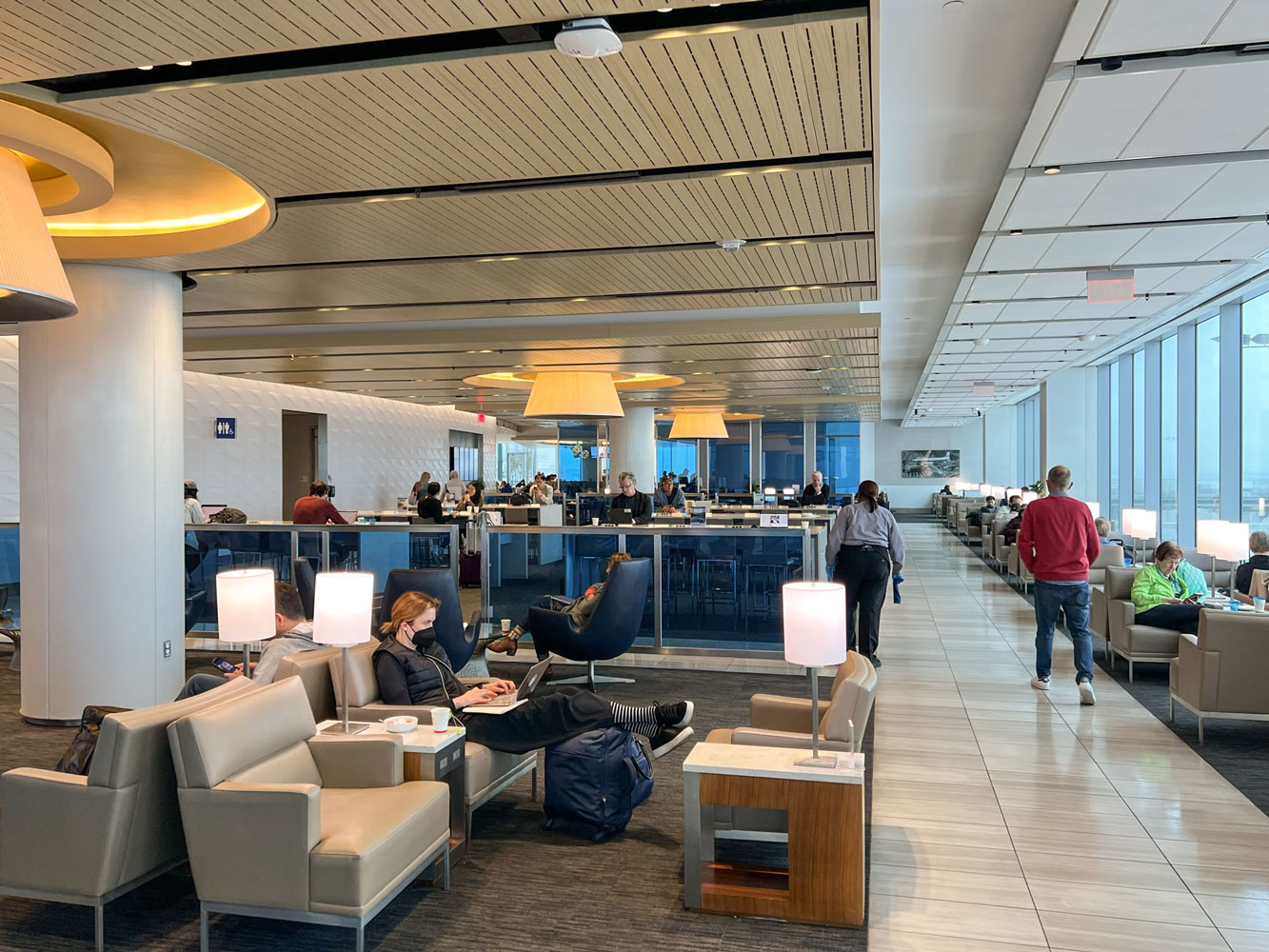 It was 8 am by the time we got to the lounge, two hours since we left home. Most of that was taken by the drive to the airport - it was almost and hour and a half to go from our house to LAX.
Boarding was 9:25 and we left the lounge about that time to go to the gate. We were quickly aboard the plane, a Boeing 787-10.
The business class seats are nice.
The flight was smooth and we arrived in Newark a bit early due to a strong tail wind. But, as often happens in those situations, the gate was not available - another aircraft was parked at the gate and we had to wait until that was all clear. It was about 6pm Eastern time when we got into the terminal.
We went to the United Polaris Lounge and it was a very nice, very big lounge. Here's a picture of the bar area - huge.
Our flight to Cape Town was scheduled to depart at 8:35pm so we went to the gate about 7:30 and boarded quickly, but the plane didn't leave until about 9pm. The aircraft was a Boeing 787-9, and the seats were essentially the same as on the flight from LAX. They served us a meal, and then we tried to sleep. It was a 14 hour flight and United did a good job.
+++++++++++++++++++++++++++
3/30/2023 (Thursday) We arrived at Cape Town about 5pm local time and were the first people off the plane. Clearing passport control was quick and easy and our luggage made it. United has an app that gives the status of your bags. They must scan the bags as they're put on, and taken off, the plane, so you can see where your bag is. To back that up, we also have Air Tags in our luggage.
The AMA Waterways rep was there to meet us.
As we were departing the baggage area, we saw this sign above the doors. Cape Town is known as the "Mother City" because it was the first European settlement in South Africa.
The AMA Waterways representative escorted us to the transfer car and driver, who took us to the hotel. Here's the driver with Judy.
As we left the airport we passed a huge "shanty-town" just outside the airport. I didn't get a picture of it. The driver explained that the government is building housing for those people, on neighboring property, but that some chose to rent out their units to have rental income, while still living in the shanty town. The "apartments" appeared to be fairly small, however.
It took about 30 minutes to get to the Cape Grace Hotel, on the waterfront. This picture was taken the following day.
The hotel is very nice, although the Internet access is extremely slow, about 1Mbps down and 0.7Mbps up. But I was able to update the blog. The hotel will be closed for extensive renovation soon. It will take about 6 months to complete.
This notice (picture below) was in the hallway near the elevators. We learned that the local power company turns off the electricity to save power. I had brought two small flashlights and put one on each bedside table so that we would be able to see if we had to go to the bathroom while the power was out. I checked during the outage time, just before midnight, and the power was still on.
[Added note: I talked with Frank, our tour guide, and here's some of the story. South Africa is short about 3,000 Megawatts of generating capacity. To deal with that, they have implemented rolling outages. The times of the outages, and the areas affected, are published on their website.
The hotel has a generator and when the outage occurs, the generator kicks in and we see a "blink" in the power - the lights go out for maybe 3 seconds. If they didn't have a generator, someone could get trapped in an elevator for a couple of hours.
Frank explained that the power company is building nuclear power stations, with a capacity of 7,000 Megawatts but it will be some time before they come on line. The rolling outages have been going on for about ten years and people are well adjusted to it.
While I saw some solar panels on homes, I did not see any wind farms, and the lower part of the Cape Town peninsula, towards the Cape of Good Hope, is very windy. You'll see some pictures later that demonstrate how windy it is.]
This was our room. The bath is nice, with two sinks and a separate shower and tub (I really dislike tub showers:-). Note the black "thing" on the bed. If you want your sheets changed, you leave that on the bed. If it's not on the bed, they just make up the bed with the existing sheets.
The standard outlet in South Africa requires the Type D adapter. At the desk in our room there was a Type D, Type G and Type C outlet. Type G is the standard outlet in the UK and Type C is standard in most of Europe. As an electrical engineer, I wonder why South Africa and the UK standardized on such large plugs. In the United States, plugs with prongs that large would be used for very high demand appliances, such as an electrical clothes dryer. You sure don't need plugs with prongs that big for normal household appliances and it makes the iPhone charger very large since it has to be as big as the plug.
After a snack in the bar, we were very tired and went to bed, only to wake about midnight. Thanks to Judy's melatonin we were both able to get back to sleep, and we slept until 8am.
+++++++++++++++++++++++++++
3/31/2023 (Friday) We took our time in the morning and went down for a late breakfast. Then we went walking along the waterfront.
Here's a picture of Table Mountain, from the waterfront. You can see why it's called "Table".
These four statues stand along the waterfront. They are former president F W De Klerk, Archbishop Desmond Tutu, activist Albert Lutuli and former president Nelson Mandela.
There were a number of statues of hippos on the waterfront, each painted a unique way.
There's a channel for entrance to the harbor, and bridging it is the Victoria and Albert Waterfront Swing Bridge. It's a cable-stayed bridge which swings from the side with the suspension tower. See the link for more information. It swings away from the observer in this picture.
Across the harbor from the hotel is the Museum of Contemporary Art, Africa, opened in 2017. It appears that the five floors at the top are museum offices and laboratories.
I found it very interesting from an architectural point of view - it was converted from a grain elevator that ceased operation in the 1990's. From the inside you can still see the remnants of the silos. Here's a picture, taken from the web, of the grain elevator as it was in the process of being converted.
There are better pictures, including pictures of the interior, at this link. I recommend you take a look.
Here's another link explaining how it was done.
We visited a few of the shops and then headed back to the hotel to rest until the AMA Waterways Reception this evening.
At 6pm we gathered in the Library and met our tour guide and two other couples on the tour. Another couple is arriving shortly so there will be eight of us on the tour. Two additional couples will join us on the Zambezi Queen for a total of twelve. The capacity of the Zambezi Queen is 28, so the cruise will be only about half full.
Here's our Tour Guide, Frank Mbete, who will be with us for most of tour.
And a view of the other two couples who were with us at the Reception. From left to right, Arnaldo and Ana from Miami, and Karen and Al from Minnesota. Frank gave us a review of the tour and then the six of us chatted for a while.
About 8:30 we broke off and headed to our rooms. Breakfast is at 7 tomorrow and we leave the hotel at 8.
We had not planned to take malaria medications, but Frank strongly recommended that we do so. He suggested we go to the local pharmacy, Clicks, and get Malarone, which is taken every day to prevent malaria. We will do that tomorrow afternoon after our tour. Frank said a prescription for the length of the tour would be about $50/person.
+++++++++++++++++++++++++++
4/1/2023 (Saturday, April Fools Day) We both woke up early this morning - couldn't sleep through the night. We were at breakfast when it opened at 6:30.
At 8am we met Frank and the rest of the group in the lobby.
There were still only six of us - the fourth couple had not yet arrived. Later in the day, Frank said he had received word that they had arrived in Cape Town.
Frank had a small bus waiting for us outside the hotel and we were off. Frank, and the group, allowed me to sit in the front seat so that I could take pictures through the windshield. The windshield can cause problems, especially with reflections, but I think I got some decent pictures.
Since I'm using a new camera, I took a lot of pictures as we drove along, just to get accustomed to the camera. Very few of them will show up here.
We're going to head south along the coast, eventually reaching the Cape of Good Hope. This shows the approximate route we took.
Here's our driver, Julian, focused on driving. He was a very good, safe driver.
As we drove out, we passed the Green Point Lighthouse.
One of the roads we were on led us toward Signal Hill.
In this area of Cape Town, the hillsides were covered with modern homes. It's obvious that there's a lot of money in Cape Town. Of course, we were driving along the coast road and wealthy people are often attracted to that type of location.
There were a LOT of serious bicycle riders all along our route. Lots of runners, also.
Note the woman at the right of this picture. I wonder if the "USC" on her shirt is University of Southern California.
This was interesting - a guy riding, standing up, in the back of a pickup.
The road leads to an area known as Chapman's Peak, and this section is a toll road.
Hout Bay is along the road, and we stopped for pictures and to take a break. This view looks across the bay. The Sentinel is the mountain feature to the left, and the town on it's right has the same name - Hout Bay.
A picture of our bus, with our driver, Julian, standing by it.
Al, as he was returning to the bus.
We continued along the road and crossed Chapman's Peak.
Our next stop at was Witsand Beach, where people were kite surfing. You can see how windy it is. Would be a great place for wind turbines.
Here's a closer view of one kite surfer.
All along the road we saw signs that said "Don't feed the baboons. They are dangerous wild animals". I didn't take any pictures of those signs, but here's another baboon sign.
Eventually we reached the Table Mountain National Park/Cape of Good Hope.
We followed the road to the actual Cape of Good Hope. The Cape of Good Hope is not the most southern point of the continent of Africa - that's Cape Agulhas, about 90 miles east. For many years it was believed that the Cape of Good Hope was the most southern part of Africa.
It was a very windy day at the cape - it puffed up my jacket.
Here are Karen and Al.
And Arnaldo and Ana.
Leaving the cape, we went up a small mountain that had a lighthouse on top. A funicular takes visitors from the visitor's center to the lighthouse, but it was out of order.
We could have walked up the trail that you can see below and to the right of the lighthouse, but most of the tour group chose not to, so none of us went.
A baboon came to see us at the visitor's center. Poor thing has a wound on it's hip.
A close-up after the baboon had settled down. "Who's a pretty girl (or maybe boy)?"
We did some shopping at the visitor's center and used the restrooms. Then we headed north, on the east side of the peninsula.
We're heading to Simon's Town to see the Cape Penguins. We went directly to the Boulders Visitor Centre. From the main building, you walk out on a boardwalk to view penguins.
Here are a few penguin pictures: It's been said that it's impossible to be unhappy around penguins.
Judy took this picture of me out with the penguins.
After leaving Simon's Town we headed for lunch at the Harbour House Restaurant in Kalk Bay. It was a good lunch, but the service was unhurried.
By the time we got back to Cape Town, the traffic was unexpectedly bad for a Saturday afternoon. Really, really bad. It took us quite a while to get back to the hotel.
Several of us walked over to the shopping mall in the Waterfront District (near the hotel). Judy and I went to Chicks (a local pharmacy store) to pick up some Malarone for malaria. This was quite some store, huge and very well organized.
I took these pictures the next day - I forgot to be a photographer that evening - and when we were there, all eight stations were staffed and busy. They were "hopping and popping."
They didn't carry the brand-name medicine, but had a generic of the same thing, so that's what we bought. It was about $50 per person, and no prescription was needed. We asked for some melatonin, also, but that product did need a prescription. Those are the opposite of requirements at home. They put the medicine in a wire locked "cage", like a lunchbox, which I took to the checkout counter.
The checkout area consisted of a long queue arrangement, with about 25 people in line. There were 12 checkout stations and the next person in line was directed to an empty station. The line moved quickly. Very well organized - I was impressed by the organization as well as by the number of shoppers.
We started the anti-malaria medication that evening. After a light dinner I worked on the blog, and then it was to bed.
We meet at 8:15 tomorrow to visit Robben Island and, good weather permitting, take the cable car to the top of Table Mountain.